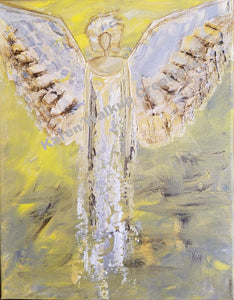 Angel~108 Fine art giclee* print on archival watercolor paper.
Regular price $65.00 Sale
The Lord Is My Shepherd.  Psalm 23
Grey, brown, yellow.  Woolly hair,  stylized wings. dynamic presence.
She puts unwavering faith in The One who protects and guides, knowing there is no safer preparation to be made for the future.
*Giclee, is used to describe a fine art digital printing process, combining pigment based inks with high grade paper to achieve long lasting prints of superior archival quality, light fastness and stability. We use premium-pigmented inks on 310 gsm Arches watercolor paper (rated not to fade for up to 115 years). This genuine 100% rag, watercolor paper complies with the highest archival standards and is extremely age resistant, and Acid Free certified to avoid paper degradation. Our giclées are adorned with a 1"- 3" border of textured watercolor paper to facilitate your framing.