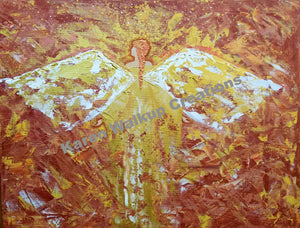 Angel~114 Fine art giclee* print on archival watercolor paper.
Regular price $65.00 Sale
I will prevail.  Psalm 94:15
Copper and gold.  Copper braid down her back, golden gown, extended wings, fiery background. Fearless, vigilant.
 This force-to-be-reckoned-with is unafraid to walk right up to, and wage war against the evil that creeps in to steal our resolve. She's a devoted prayer warrior, who takes every request straight to the King.
*Giclee, is used to describe a fine art digital printing process, combining pigment based inks with high grade paper to achieve long lasting prints of superior archival quality, light fastness and stability. We use premium-pigmented inks on 310 gsm Arches watercolor paper (rated not to fade for up to 115 years). This genuine 100% rag, watercolor paper complies with the highest archival standards and is extremely age resistant, and Acid Free certified to avoid paper degradation. Our giclées are adorned with a 1"- 3" border of textured watercolor paper to facilitate your framing.