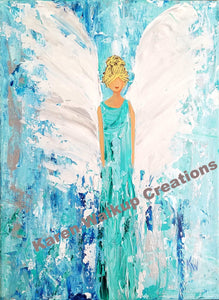 Angel~100 Fine art giclee* print on archival watercolor paper.
Regular price $65.00 Sale
Sweet Young Angel
Turquoise and white. Young and fresh looking. Upswept sun-kissed hair.
She reminds us to remain wide-eyed and childlike on our journey.
*Giclee, is used to describe a fine art digital printing process, combining pigment based inks with high grade paper to achieve long lasting prints of superior archival quality, light fastness and stability. We use premium-pigmented inks on 310 gsm Arches watercolor paper (rated not to fade for up to 115 years). This genuine 100% rag, watercolor paper complies with the highest archival standards and is extremely age resistant, and Acid Free certified to avoid paper degradation.Our giclées are adorned with a 1"- 3" border of textured watercolor paper to facilitate your framing.