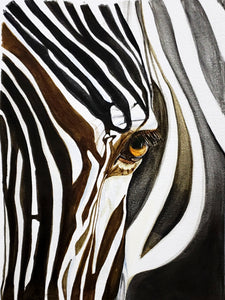 Animals, Zebra~805
Regular price $70.00 Sale
 Zebra is the mascot for Neuroendocrine cancer. Just as no two zebras have the same stripes, no two neuroendocrine cancer patients have the same symptoms. That makes this disease tricky to diagnose and even harder to treat. I painted this in honor of my friend, who is bravely navigating the difficult journey of being a Zebra.
THINK ZEBRA : NOVEMBER IS CARCINOID CANCER AWARENESS MONTH.
I chose to offer these as fine art giclee* prints on archival watercolor paper because of their lasting quality and also, to allow you to customize your framing to best suit your space and decor. 
 *Giclee, is used to describe a fine art digital printing process, combining pigment based inks with high grade paper to achieve long lasting prints of superior archival quality, light fastness and stability. We use premium-pigmented inks on 310 gsm Arches watercolor paper (rated not to fade for up to 115 years). This genuine 100% rag, watercolor paper complies with the highest archival standards and is extremely age resistant, and Acid Free certified to avoid paper degradation. Our giclées are adorned with a 1"- 3" border of textured watercolor paper to facilitate your framing.